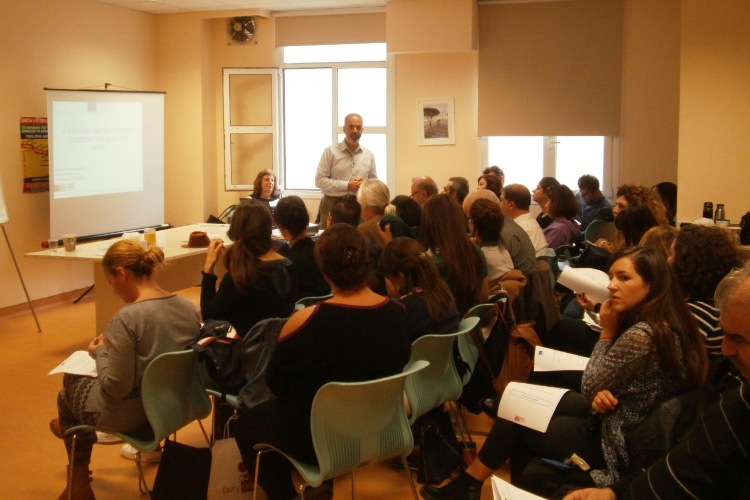 Training addressed to Greek health and non-health professionals.
In Greece, the first training was carried out on the 7th and 8th of November 2016, in the island of Chios. On this island, close to the Turkish border, there is a hotspot and an unofficial settlement of refugees/migrants in the center of the city, around the castle and near the port. Chios can accommodate 1200 refugees/migrants but due to constant arrivals the number now is estimated to more than 4000.
The training was co-organized with the General Hospital of Chios, where all the medical cases end up (emergencies, births, chronic, mental illnesses etc.)
The call was for 25 persons as it is easier to carry out exercises and dialogues. At first, 28 people signed up and in the morning of the training 40 actually showed up. The participants were health staff from the hospital (i.e. doctors, nurses, social workers, and psychologists), law enforcement officers and NGO's representatives (PRAKSIS, ARSIS, MDM, METADRASI).
The submitted evaluation forms, demonstrate that the majority of the participants were completely satisfied with the training provided, are asking for more of this kind to be carried out again in the island and believe that it will help them in their work. The subjects they liked most were trafficking, the myths related to TB, cultural diversities and mental health. Both local TV channels reported the event on their news and presented the CARE project and its objectives to their audiences.
Download the Training Programme (7-8 November 2016)
Videos in Greek:
http://www.politischios.gr/koinonia/mythoi-kai-pragmatikotites-gia-metanasteytiko-binteo
http://www.alithia.gr/tv/eidiseis/imerida-gia-tin-ygeia-ton-metanaston-sto-skylitseio-na-min-xehname-ti-diaforetiki

Training in the Greek island of Chios, 7-8 November 2016