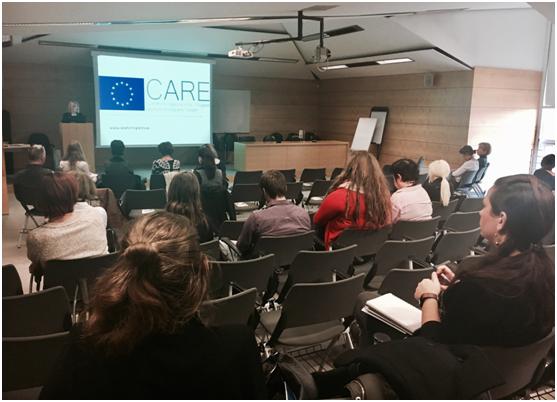 The Info day of the CARE project took place on the 9th March 2017 in Ljubljana, Slovenia. The National institute of public health (NIJZ) hosted the event in the lecture hall at NIJZ regional unit in Ljubljana. An invitation had been sent to various relevant stakeholders (NGO representatives), policy makers and public health experts. More than 15 representatives of non-governmental organizations, public health representatives employed at NIJZ and health center near asylum centers participated in the event (Red Cross, Filantropija, UNHCR, Peace Institute (Mirovni inštitut), WAHA/Circle Institute (Zavod KROG), International Organization for Migration (IOM), health center near asylum centers (ZD Logatec).
A welcoming speech was given by the Head of NIJZ Center for Infectious Diseases and it was followed by an overview of the CARE project by Maja Sočan. Then, Nuška Čakš Jager made a particular reference to WP5 and WP8 activities of the CARE project.
Following the overviews, a thorough description of the Work-package 7 and its main objectives were presented by the Head of Health and Safety at Work, department of the Ministry of Interior. Simona Sihur, who was involved with the training seminars, shared her point of view and appreciation of the CARE project's training sessions, that were carried out in November. Nadja Šinkovec, then, explained the need for the migrants' health literacy, the process and the purpose behind booklets and leaflets as guides through health systems in their host countries, specifically Italy, Greece, Malta, Croatia and Slovenia.
The final topic focused on the awareness raising material for the general population regarding myths about migrants and their health, specifically, migrants being understood as a health threat. Again, the process and the importance of the posters and pocket calendars were explained. Other points also emphasized on the common approach as an important part of CARE project. In addition, produced materials were disseminated to the participants.
All in all, the participants showed great interest and appreciation for the materials and were looking forward to seeing them in use. The Info Day closed with an active dialogue between the CARE project team and the participants.
CARE Info Day in Slovenia, March 2017