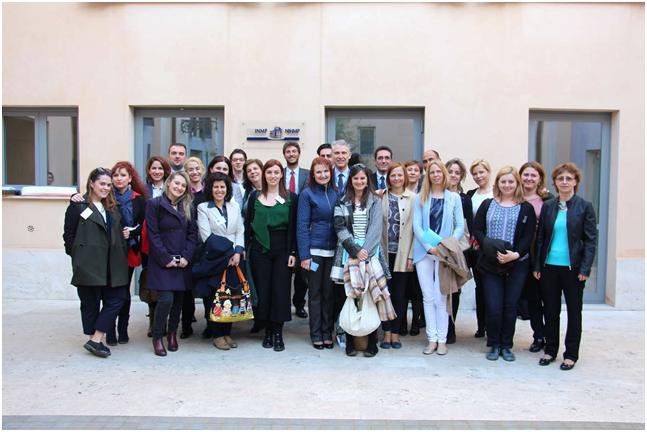 On the 29th of March 2017, the Final meeting of the CARE Project was held at the INMP headquarters, in Rome, with the participation of representatives of the 15 partners, IOM and Scientific Board members and the presence, via videoconference, of the Project Officer from CHAFEA, Ms. Paola D'Acapito, the principal advisor of the European Commission DG Santé, Ms. Isabel de la Mata, and representatives of the European Centre for Disease Prevention and Control (ECDC).
The meeting has been organized into 3 main sessions in which the representatives of the 15 partners had the opportunity to present the results achieved both at European and national level in the framework of the 8 project's work packages.
In the first session, titled "how to take care of migrants' health into hotspots and other migrants' centers", representatives of INMP, Praksis and OPBG informed the audience on the successful delivery by the multidisciplinary teams working in the targeted hotspots and migrants'/refugees' centers in Greece and Italy, of effective healthcare services to the needs of migrants/refugees, using the clinical protocols developed within the framework of the project. Furthermore, the IRC representative presented the electronic system for migrants' health monitoring and tracking developed and implemented within the framework of the project, that comprises the delivery to migrants who have undergone medical examinations by the multidisciplinary teams into the project hotspots of a USB device where his/her relevant health data are stored, then allowing the continuity of the migrant's health care in his/her subsequent transfers to other reception centers.
In the second session, titled "how to make countries invest on their communities and on health systems' preparedness", representatives of ISS, NIJZ, CIPH, KEELPNO, Maltese Ministry of Health, ESDY, AOU Meyer and Oxfam Italy presented the results achieved at countries' level in: the monitoring of communicable diseases (among which the development and piloting of: a syndromic surveillance system, a survey on vaccination policies in the participating European countries and dispatches of targeted information on relevant communicable disease outbreaks), the training of health and non-health professionals working with migrants, the production and distribution of information and awareness raising materials addressed to migrants and general population and, moreover, the development of recommendations on the strategic Public Health planning regarding migrant and refugee populations and the role of civil society organizations.
In the third session, devoted to the horizontal activities of the project, the evaluation of the project and the dissemination of project results have also been presented.
In the final remarks, the CHAFEA project officer, Ms. Paola D'Acapito, took the floor to congratulate the partnership, which comprises relevant national institutions in the field of migration and health, for the significant results achieved, despite the project's short duration, that was only 12 months.
CARE Final meeting in Rome, March 2017