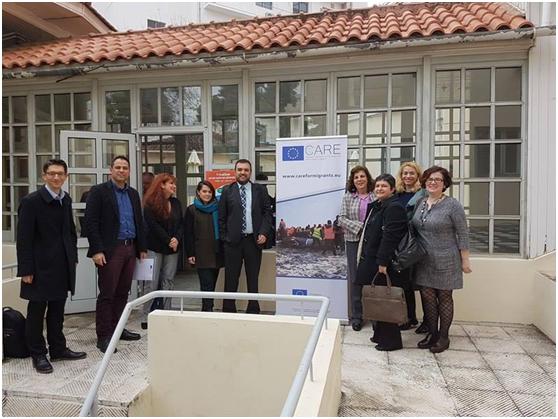 An Info Day was organised on the 10th March 2017 in Athens, Greece within the framework of the WP2 of the European project "CARE – Common Approach for Refugees and other migrant's health". The aim of the Info Day was to present the results and activities of the CARE project.
The National School of Public Health (ESDY) hosted the event. The dean of ESDY opened the event, and Tasos Mastrogiannakis from CMT Prooptiki (WP3 Leader of the CARE project) gave an overview of the CARE project.
The first session had the title "Skills of the manpower working in migrant / refugee healthcare". Elli Ioannidi (WP8 Leader) presented the trainings that have been carried out to health and non-health professionals. The following presentation by PRAKSIS focused on the trainings under WP4 to the multidisciplinary teams in the field. The session concluded with the presentation of Prof. Eleni Hatzidimitriadou, collaborative stakeholder of the CARE project, regarding the trainings of migrants/refugees on mental health issues. Active participation from the participants on questions
The second session referred to "Healthcare provisions to migrants and refugees". The first presentation of this session was given by Maria Moudatsou from PRAKSIS (WP4 responsible for Greece) regarding "Interdisciplinarity, healthcare tools, registration and age determination procedures. Commentary and Challenges". Then, Kassiani Golfinopoulou from KEELPNO (Hellenic Center for Disease Control and Prevention), partner of the CARE project, presented the results concerning the syndromic surveillance of communicable diseases.
The Info Day closed with a session with the title "Recommendations for the improvement in the delivery of healthcare to migrants/refugees and further development". In this session, synergies and best practices of NGOs and public sector in healthcare provisions to migrants/refugees, results of the CARE project were presented by ESDY. The final presentations focused on other related EU funded programs (EUR-HUMAN and ORAMMA projects), as well as the Sexual and Reproductive Health  program of UNFPA.
Overall, more than 70 representatives from national organisations, intergovernmental organisations and NGOs, as well as media representatives participated in in the Info Day (MSF, Hellenic Red Cross, Technological Educational Institute of Athens, University of Crete etc).
CARE Info Day in Greece, March 2017