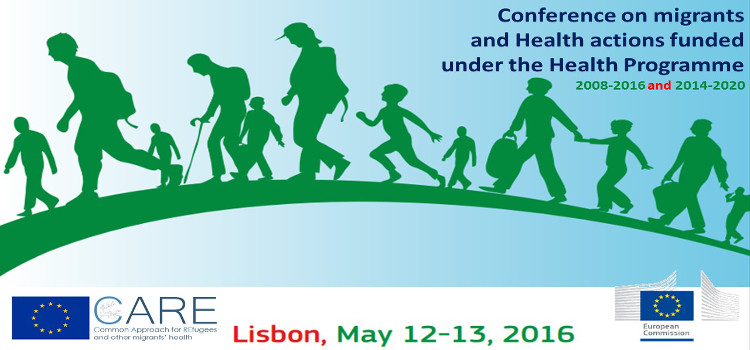 The CARE project was presented in the "Conference on Migrants and Health actions funded under the Health Programme" that took place in Lisbon on May 12th and 13th.
The conference was jointly organised by the Consumers, Health, Agriculture and Food Executive Agency (Chafea), Directorate General for Health and Food Safety (DG SANTE), Directorate General of Health (DGS) from Portugal, International Organisation for Migration (IOM) – EQUI-HEALTH project and COST ADAPT network as part of the Health Programme dissemination activities 2015.
The 2-day conference aimed at sharing the knowledge on Health and Migrants acquired through the Health inequalities and Health security actions funded under the Health Programme 2008-2013 and 2014-2020 and at demonstrating how their results can be used to improve Member States capacities to respond to the challenges deriving from health inequalities experienced by those vulnerable groups.
On May 13th, during the session "Support Member States to address the urgent migratory pressure" that was moderated by the International Organization for Migration (IOM), Dr. Gianfranco Costanzo (project Coordinator, INMP), made a comprehensive presentation on the CARE project to an audience of more than 160 relevant stakeholders, including a variety of national experts in the field of public health and migration.
More info on the "Conference on Migrants and Health actions funded under the Health Programme" can be found in the following link:
http://www.chafea-migrants-health-2016.eu/index.jsp
CARE project in Lisbon, May 12-13, 2016