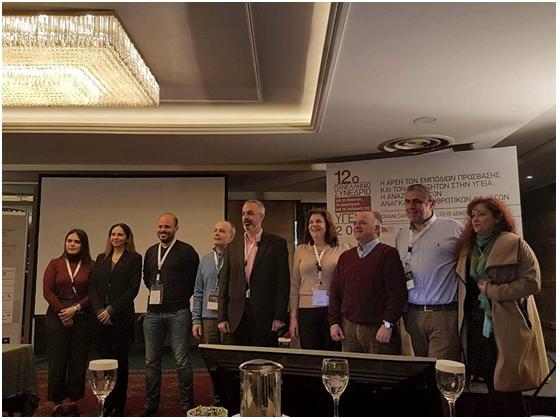 From left to right: Maria Konstantellou- PRAKSIS, Kassiani Golfinopoulou- KEELPNO, Lefteris Papagiannakis-Municipality of Athens, Apostolos Veizis- MSF, George Koulierakis- NSPH (ESDY), Ellie Ioannidi- NSPH (ESDY), Nikos Gkionakis- Syn-eirmos, George Makrynos-National Association of Health Supervisors, Maria Moudatsou- PRAKSIS
The National School of Public Health (P6) and especially the Department of Health Economics organised the 12th Panhellenic Conference under the title: "Overcoming Barriers in Access and Health Inequalities: In Search of the necessary Structural Reforms."
The Congress was carried out in Athens from the 13th to the 15th of December 2016 with 230 speakers participating. The basic idea of the Congress was to formulate evaluative ideas, critical thinking and well-documented proposals, for the promotion of structural changes in the healthcare sector –from the point of view of (social) equality, (financial) efficiency and (medical) effectiveness.
Various topics were presented in the Congress, such as "Primary healthcare as a constituent for growth in the health sector", "Hospital care: alternative structures και substitution policies", "Public health policies for migrating populations", "One health: an attempt for total recall in public health", as well as a distinct session about the CARE project.
In particular, on Thursday, 15/12, from 12.00- 13.30 a session under the title "Migration and Health: a common approach in the E.U." took place. During the session, the CARE project's rationale and objectives were presented and each one from the participating Greek institutions (ESDY, PRAKSIS, KEELPNO, SYN-EIRMOS) described their involvement in the framework of the project.
This was followed by an active Q&A session between the speakers and the participating audience. Moderators of the session were Dr. George Koulierakis and George Makrynos while Mr. Lefteris Papagiannakis, Vice-mayor Municipality of Athens, Migration Policy and Refugees Issues, President of the City's Immigrant Integration Council, commented on the issues discussed.
12th National Health Policy Congress, Athens, Greece.