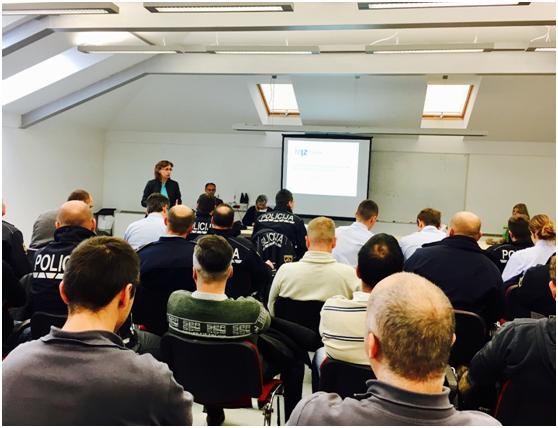 During November 2016, training sessions, which are part of WP7's objective to empower health and non-health professionals, were in full swing across most of the CARE partners' countries – including Slovenia.
Based on the needs and the context of the country, the National Institute for Public Health (NIJZ) team worked together with the Slovenian Ministry of Interior, in order to identify the target groups who are most in need of new knowledge, as well as the most useful topics according to their needs. Therefore, during almost two weeks, the team of NIJZ organized 6 training sessions in different locations in Slovenia, informing and educating various groups of stakeholders, including police officers.
In particular, the first training session was carried out on Tuesday, 15th November in Brežice, following the next day was Ormož, then Ilirska Bistrica and Rogaška Slatina. On Monday, 21st November the NIJZ team organized training sessions at the Police Academy in Slovenia. The final training sessions were held on Thursday 24th November and were addressed to a team of employees from Asylum centers and Center for Foreigners.
All in all, there were 300 participants in total, in the six training seminars. The emphasis of the training sessions was on detecting symptoms of infectious diseases and on providing information on basic personal protection, for police officers themselves, migrants or refugees and those around them. The intention was to educate and empower the most involved stakeholders.
The national measures and steps of information channels at suspicion of infectious diseases at the entry points of Slovenia, were presented and further explained, connected to migration currents. In addition, there was a dedicated session to inter-sectoral cooperation, focusing on rescue team experiences. Training sessions ended with theoretical and practical demonstration of personal protective equipment (such as gloves, mask and disinfectant). Lastly, stereotypes and culture clashes were discussed.
The training sessions were very well accepted, as was the NIJZ team. During the sessions, many discussions and conversations started, rapports built, misconceptions and misunderstandings repaired. However, despite the fact that an important step was made, learning is a process and the team of NIJZ continues providing assistance towards this direction.
Training in Slovenia, November 2016